Advertise your business or other offers on the top rated radio shows in the USA. Call 888-449-2526 today for rates and costs to advertise with the best. Local market spot advertising, National syndicated network advertising, celebrity host endorsements and major events. Advertise on any or all and see amazing results.You can ask for a free media plan and get our professional opinion on what your best options might be.
Premiere Radio Networks, Inc., Now iHeart radio – is a subsidiary of Clear Channel Communications, syndicates over 90 radio programs and services to more than 5,000 radio affiliations reaching over 190 million listeners weekly. Premiere Radio is the number one radio network in the country and features : Rush Limbaugh, Casey Kasem, Ryan Seacrest, Glenn Beck, Bob & Tom, Delilah, Steve Harvey, Blair Garner, George Noory, Dr. Dean Edell, Sean Hannity, Elvis Duran, Randi Rhodes, Jason Lewis and others.
iHeart and Premier Radio Networks offers Talk, Entertainment, and sports programming.
Ho Hum Productions is an independent ad agency and claims no affiliation with Premiere Radio Networks, Clear Channel Communications, any of their hosts, Radio Stations, affiliates or web based entities except as an independent ad agency and media buyer. We buy local radio station inventory and national spots on all of the iHeart and Premiere offerings in the Talk radio, news and entertainment venues. Call 888-449-2526 for a media schedule from our agency today!
Call us at 888-449-2526 for opportunities to advertise on iHeart, Clear Channel stations and Premier Radio Networks. Remnant and discounted rates and pricing available for some offers.
Rate Card for Premiere radio:
(Planning Rates Only – subject to change without notice)
Rush Limbaugh – Sean Hannity – Glenn Beck – George Noory – Fox News and sports: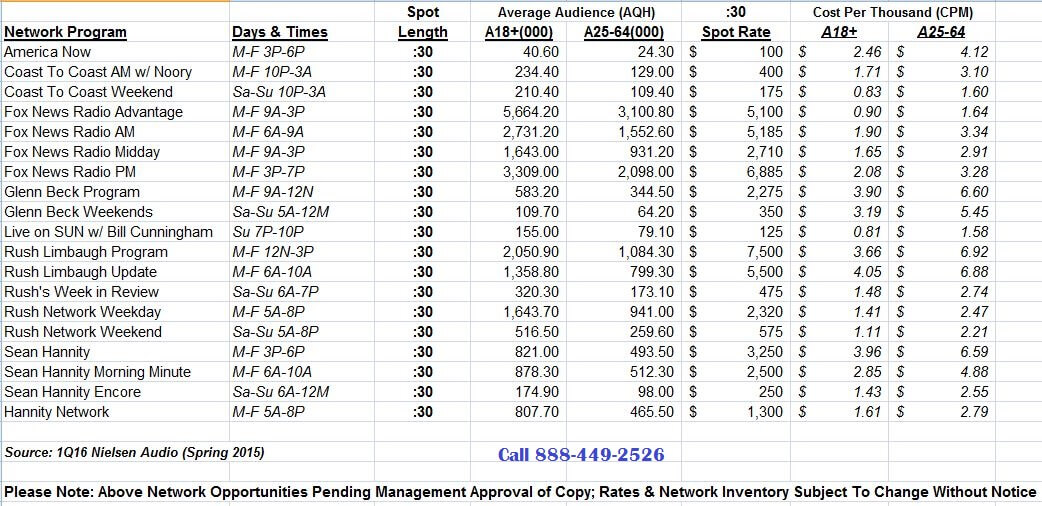 National Rate Card and sheet for radio – iHeart and Premiere Networks talk shows: