We help you access to stand-by and remnant rates in 1000's of Newspapers, Magazines and on the digital editions for Online Display in these many well known periodicals. Call for a remnant rate media plan!
Ho Hum Productions (Ho Hum Media inc.) has developed connections in the print advertising market including some of the largest newspaper and magazines in circulation today. With print advertising you have the opportunity to take advantage of both visual and textual presentations in a format that is always readily available to see over and over again. Some many advertisers, this is the most effective way to display their product. In today's media landscape, online editions of print media are as – if not more important for marketing and advertising products, services, events and other offers.  You can access rates, costs and rate cards or media kits here for your media planning efforts. Please call or fill out the form to get fast service. 888-449-2526 – Ask about remnant, stand by and discounted rates for all print advertising when you call! You could save up to 90% on print advertising here. Great advertising deals in the top 100 newspapers and magazines in the USA.

Call us today at 888-449-2526 to take advantage of the great opportunities print advertising presents.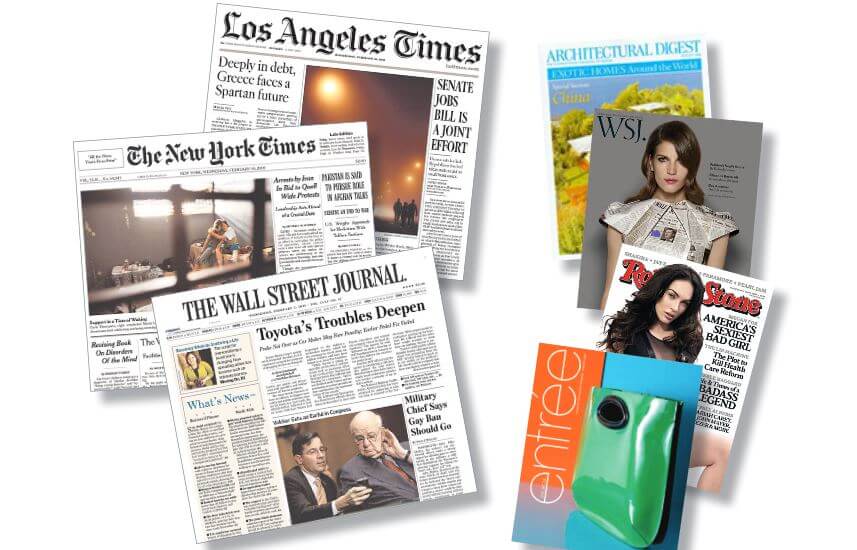 Print advertising opportunities:
Newspapers – short list for advertisers:
Wall Street Journal
The New York Times
Los Angeles Times
Chicago Tribune
Houston Chronicle
Chicago Sun-Times
Orange County Register
Dallas Morning News
San Francisco Chronicle
Pittsburgh Post-Gazette
Baltimore Sun
Ft. Lauderdale Sun-Sentinel
Hartford Courant
Hispanic Tribune Network
________________________________________________________
"I've known and worked closely with Roger Fredinburg, on media campaigns, for the past six years. One project on which we collaborated resulted in the client quintupling it's earnings in a single month. Roger knows the business and exactly where to find advertising opportunities that really pull in specifically targeted customers. In addition to his talent at ad placement, he's great at pinpointing advertising concepts that fit the intended audience. All this AND he's a fun and energetic character who makes working a pleasure."
Jim Brewster – President, Blue Star Media
"I have worked on several projects with Ho Hum Media and found them to be professional, courteous and knowledgeable over a wide spectrum of media channels. I would recommend their agency with great confidence. They have demonstrated the ability to get the job done right and with effective results."
Linda Schwartz – Freedom Media
DISCLAIMER: All Network, Business, Program, and Company logos and images featured on this website are the sole property of the registered owners of such logos and images and are displayed for the purpose of representing marketing opportunities for their respective companies.
Call us 888-449-2526 today!